Now, it was around this time last year that I published my bucket list of places to visit while in Europe. From the up-most north of Iceland to as far east as Turkey, I had many aspirations for seeing some of these miraculous places on the continent.
Fast-forward a year later and, while I'm once again back in Europe for work, I'd only managed to hit four of the destinations that I had on my bucket list from last year (notably, la fête des Lumières in Lyon, the Christmas markets in Germany, Chefchaouen in Morocco, and Gdańsk in Poland). Admittedly, it sounds rather privileged to say that I couldn't satisfy the majority, let alone all, of my bucket list destinations when others don't have the opportunity to travel. But for the determined, Type-A individual that I am, I decided to say it all the same.
Continuing with last-year's tradition, I will be updating my bucket list that I hope to get around to the rest of this year, going into the next. There will be some overlaps, but in any case, here's hoping I can get to some of them this time around!
1. Heidelberg, Germany.
Situated on the Neckar River of southwest Germany, this university town is known for being absolutely gorgeous in its architecture, which in contrast with the river makes for stunning views. It's also home to a venerable Christmas market, one of the biggest in the country. While I've been to Germany at least three times, I have yet to visit Heidelberg– guaranteed that I'm going soon, though!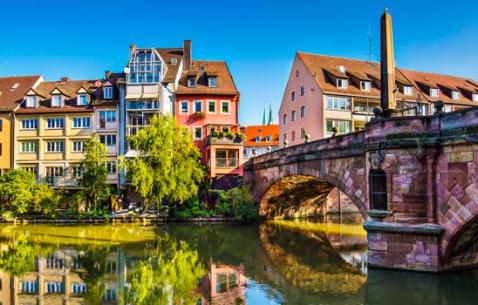 2. Nuremberg, Germany.
Heading east of the country, Nuremberg is one of the charming jewels of the Bavaria region, alongside Munich. Despite its notoriety with the infamous "Nuremberg Trials" in the early 20th century, the city remains a lovely one to visit. It's historically known for print and publishing, along with its Christmas market as well. Once again, it's guaranteed that I'll be heading there soon!
3. Iceland.
Iceland had also made an appearance in my bucket list last year but of course, due to the expenses and timing, I was unable to make it over this past year. To tell you the truth, I'm not even sure if I can find the time to go this time around…unless I go in January, which I'm told is a risky month due to freezing weather conditions on the road. Perhaps I could try for the warmer periods, and also saving up some more for the trip!
4. Santillana del Mar, Spain.
You might not have heard of this small town in northern Spain, but I stumbled across a photo of it online, and I absolutely fell in love with the narrow, cobblestone streets and buildings. What makes Santillana del Mar even more interesting is that it's the "Town of Three Lies," with its name neither signifying a saint (Santo), being flat (llana), nor situated near the sea (Mar). I'd love to visit it, perhaps on a northern Spain trip.
5. Croatia.
Just like with Iceland, Croatia had also been on my bucket list from last year, but I also didn't make it over. Technically, I've already been to Dubrovnik, but it's been over eleven years since then, and I don't recall much of it. I'd like to dedicate at least a week to exploring it properly, should I get the chance: Split and the Plitvice Lakes are at the top of my destination.
6. Slovenia.
Likewise, I didn't make it to Slovenia this past year, either! I hope to make it as a joint trip with Croatia, since they're neighboring countries. At least with Ljubljana, it's only a three-hour journey from Venice, so it'd be convenient to fly into the latter for a (re)visit before heading over! Lake Bled is also a place that I want to check out, so here's hoping that there's a chance to see it this year!
7. Les Gorges du Verdon, France.
Known as the "Grand Canyon of France," les gorges du Verdon is a well-kept secret away from foreign tourists, hidden deep in the south of France near the town of Castellane. Besides its turquoise-blue waters and jaw-dropping reliefs, the canyon is popular for those who enjoy rafting or hiking. Of course, it's ideal to visit in the summer when the weather's nice, so I'll have to make it a point stay just a bit longer for a visit!
8. Carcassonne, France.
Located about an hour's drive from Toulouse, the fortified town of Carcassonne is known for its medieval fortress and old charm, of which draws in many tourists– locals and foreigners alike– every year. With its rusty-red rooftops, circular architecture, and rich history, it's no wonder that people fall in love with its beauty. Should I ever return to Toulouse (which is feasible, because a friend lives there), I'll need to go to Carcassonne.
9. Karlovy Vary, Czech Republic.
When you think of the Czech Republic, you probably only think of Prague– not so much Karlovy Vary. Famous for being featured in the Queen Latifah film Last Holiday (a favorite of mine), this luxurious spa town is just plain pretty. There's also the iconic Grandhotel Pupp, a 5-star hotel that was featured in said film, which is imposingly gorgeous. I'd like to visit for a day just to feel rich!
10. Basel, Switzerland.
Less than an hour's drive from Colmar in France, the city of Basel is the third most-populous in Switzerland after Zurich and Geneva, and it's located near the French and German borders. While I'm told that there isn't so much to do there, it's nevertheless lovely along the Rhine river. While I don't live that close to the Alsace region of France, I'd like to make the effort to go there when I can.
What are your top destinations you'd like to visit in Europe? Let me know!
— Rebecca